Today's Lawyer Cartoons
Come back tomorrow for a new cartoon.
Comics from our Marketplace
Popular comics available from our marketplace.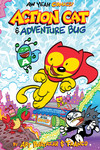 Aw Yeah Comics!: Action Cat and Adventure Bug TPB - $11.69
From the pages of Aw Yeah Comics! Art Baltazar and Franco's greatest superheroes, Action Cat and Adventure Bug, star in their very own story! Our heroes run an amazing comics shop, but Evil Cat lurks behind the scenes to do . . . what else? Evil! Beware his new secret weapon, the lizard gun! Collects issues #1창#4. * Action Cat's first series! * All-ages comedy mayhem!

Complete Crumb Comics TPB Vol. 03 Fritz Cat - $15.99
These early volumes of our multiple Harvey and Eisner Award-winning Complete Crumb Comics series have been amongst our most demanded reprints over the last few years. Complete Crumb Comics Vol. 2 features several key stories from Crumb's pre-underground, homemade comics of the early 1960s. Complete Crumb Comics Vol. 3 includes the stories that began to build the Crumb legend. Also includes rare art, some of Crumb's long-lost American Greeting cards from the '60s, and more. Plus, the story of Crumb's first acid trip!

Puss In Boots TPB Vol. 02 Cat About Town - $5.24
Four thrilling adventures starring everyone's favourite swashbuckling cat! In 'Puss and the Shoemaker,' a mysterious peddler comes to town with his amazing array of shoes, and then the shoes start to affect the townspeople. Can Puss resist? In 'Purr-chance to Dream,' Artephius creates a new potion that can make Puss more vigilant for his crime-fighting activities. But how will 24-hour crime-fighting affect Puss? Plus, special bonus stories: 'As the Saying Goes' and 'Hall of Mirrors.'

Puss In Boots #2 (of 4) (Cover B) - $1.00


The Furball of Fortune Returns! In 'Damage Control' after a drag-out brawl with local bandit El Moco, Puss is tasked with cleaning up San Lorenzo, but something smells fishy and it's not just the knocked-over trash cans. Could El Moco still be at large? In a bonus story, Kid Pickles buys some magic beans and things begin to get weird... very weird indeed! If you enjoy your fairy tales with a twist and a pickle on the side... these are for you!





*****************************


Be sure to see more of our daily cartoons,
We have many available for you
More of our Daily Cartoons

Advertisements





Shop our Marketplace


**********************************

Advertisement